LINDA MICHOW
Linda Michow is a founding partner of the law firm of Michow Cox & McAskin LLP in Greenwood Village, Colorado. Her practice includes representation of Colorado municipalities on local government matters with a focus on land use, construction contracts and elections.
Linda currently serves as the City Attorney for the Cities of Lone Tree, Castle Pines and Leadville. She is responsible for providing day-to-day legal advice on issues concerning annexation, zoning and land use planning, elections, taxation, urban renewal, real property, construction, liquor licensing and TABOR compliance. Linda has extensive experience drafting subdivision improvement and annexation and development agreements, intergovernmental agreements, public/private incentive agreements, construction contracts, comprehensive zoning and subdivision regulations, as well as ordinances and resolutions concerning general municipal matters. Linda served as the lead attorney for the Streets at Southglenn and IKEA development projects in Centennial, which involved the negotiation and drafting of development and incentive agreements, rezoning ordinances, vested property rights ordinances and processing of final plats. Linda also ensured legal compliance in the implementation of the City of Centennial 2011 Land Development Code through multiple ordinances, public hearings and zoning map amendments. Linda has worked on behalf of several municipal clients on complex, large-scale annexation and development projects, including the 2009 annexation and zoning of a 3,300 acre parcel to the City of Castle Pines.
In addition to her regular City Attorney functions, Linda has served as an administrative hearing officer on land use applications and appeals. Ms. Michow has testified as an expert witness on the issue of reasonableness of attorneys' fees in Gumina v. City of Sterling, 119 P.3d 527 (Colo. App. 2004).
Prior to forming Michow Cox & McAskin in March, 2016, Linda was a partner with the law firms of Widner Michow & Cox LLP and Gorsuch Kirgis, LLP where she maintained a robust local government practice from 1999-2016.
Linda's local government experience in private practice developed out of her former in-house position as a Senior Assistant City Attorney for the City of Arvada. During the course of her employment with the City of Arvada, Linda served as the legal advisor to the Arvada Planning Commission, Board of Adjustment and the Liquor Licensing Authority. In addition, she provided legal advice to the Arvada Housing Authority, Public Works and Police Departments and the Arvada Center for the Arts and Humanities. Linda also served on the Arvada Planning Commission after she left employment with the City.
Before joining the Arvada City Attorney's Office, Linda prosecuted criminal appeals as an assistant attorney general in the appellate section of the Colorado Attorney General Office.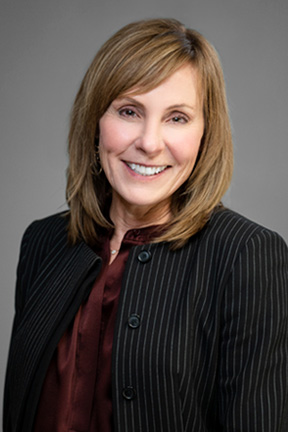 PROFESSIONAL MEMBERSHIPS
AND ACTIVITIES
Colorado Bar Association
Denver Bar Association
United States District Court for the District of CO
Colorado Supreme Court
Colorado Municipal League
     President; Attorney Section (2010-2011)
Arvada Planning Commission
     former member; chairperson
EDUCATION
B.A., Skidmore College
Saratoga Springs, NY, 1985
Membership in Phi Beta Kappa National Honor Society
J.D., Georgetown University Law Center
Washington DC, 1989
D.C. Street Law Clinic
REPRESENTATIVE PROJECTS
Lead city attorney for the IKEA Centennial project.
Advised city on all aspects of adoption and implementation of new land development code and adoption of official zoning map, including phased, comprehensive rezoning of all city property.
Testified as an expert witness on attorneys' fees in Gumina v. City of Sterling
Assisted in challenging county's imposition of an administrative fee associated with distribution of sales tax "shareback" to city.
Lead city attorney for the Streets at Southglenn redevelopment project, including urban renewal authority formation documents, finance and development agreements, and special district formation.
Formulated ordinances, regulations, policies and procedures, and standard form contracts for newly operating cultural center.
Responsible for drafting formation documents and assisting staff to create city's first Housing Authority.
Defended takings claim under Colorado's "Impact Fee" statute (C.R.S. Section 29-20-201, seq.).
Drafted substantial provisions of comprehensive zoning and subdivision regulations.
Drafted comprehensive sales and use tax ordinance.
Drafted comprehensive medical marijuana business ordinance including caregiver regulations.
Assisted in the establishment of a new municipal court for a newly incorporated city.
Drafted comprehensive "1041" regulations formally adopted through extensive public review and approval process.
Drafted construction contracts and architect professional services agreements associated with development of Fitzsimons Campus.
SPEAKING ENGAGEMENTS  
Colorado Municipal League, Annual Conference. "The Sharing Economy", Breckenridge, Colorado, June 2015.
CLE International, Local Government Law. Serves as the program chair for newly created local government law conference for CLE International, Denver, Colorado, 2015; 2016.
CLE International, Land Use Law: How To. "Language Amendments," Denver, Colorado, November 2012.
Colorado Municipal League Annual Conference. "Basics of Nuisance Law and Governmental Immunity," Vail, Colorado, June 2011.
National Business Institute. "Boundary Disputes: Resolving Client Conflicts," Denver, Colorado, December 2006.
National Business Institute. "Major Land Use Laws in Colorado," Denver, Colorado, April 2004.
National Business Institute. "Major Land Use Laws in Colorado," Denver, Colorado, March 2002.
Gorsuch Kirgis Employment Law Seminar. "The Expanding Doctrine of Sovereign Immunity: A Survey of Recent Developments in Public Employment Law," (Co-Author), Denver, Colorado, April 2001.
Citizens Planning Academy. "Planning Commission Meeting Procedures," Lakewood, Colorado, October 2000.
Gorsuch Kirgis LLP Employment Law Seminar. "Common Public Employment Law Issues," Denver, Colorado, May 2000.
National Business Institute. "Major Land Use Laws in Colorado," Denver, Colorado, March 2000.