KATHIE GUCKENBERGER
Kathie Guckenberger has represented Colorado public entities since 2009, and has been with the law firm of Michow Cox & McAskin LLP since its inception. She represents and counsels Colorado municipalities on a broad range of local government legal matters.
Kathie currently serves as the City Attorney for the City of Cherry Hills Village and the City of Golden. She advises on all aspects of municipal legal matters, including open meetings and open records, contracts, ethics, general liability issues, personnel, elections and campaign finance, business licensing, real property, and zoning and land use matters. She also regularly drafts and interprets municipal code provisions on a wide variety of issues and coordinates with outside counsel when necessary. In addition, Ms. Guckenberger assists with the firm's legal representation of the Cities of Castle Pines, Central, Lone Tree and Leadville. She currently serves as the liquor licensing authority for the City of Englewood and as legal counsel for the Personnel Merit Commission of the City and County of Broomfield.
Kathie has extensive experience in employment matters and ADA compliance. In addition to providing timely counsel regarding personnel disputes and compliance, she drafts employee handbooks and related policies, separation agreements, and documentation in employee discipline matters. She also routinely obtains successful results for the firm's clients in responding to complaints filed with state and local administrative agencies on employment and other matters and representing those clients in related hearings.
Prior to joining the firm, Kathie practiced law with Widner Michow & Cox for six years, which also represented Colorado municipalities. She began her legal career in the Hillsborough County Attorney's Office in Tampa, Florida, where she was responsible for legal advice concerning employee relations, benefits, and contractual issues for over 4,000 public employees. On behalf of the County, she handled adversarial employment proceedings, counseled on a variety of personnel matters, and acquired property under eminent domain proceedings. She subsequently worked at CCH, Inc. in St. Petersburg, Florida as an Associate Writer/Analyst on their Employment Practices Guide. Ms. Guckenberger also served as an adjunct professor at St. Leo's College in Tampa, teaching in the Human Resources degree program.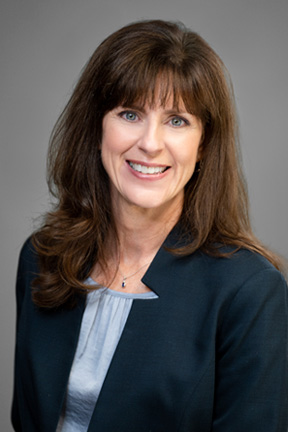 PROFESSIONAL MEMBERSHIPS
AND BAR ADMISSIONS
Colorado Bar Association
Denver Bar Association
Licensed to practice law in Florida
Florida Bar Association
Colorado Municipal League
Society for Human Resource Management
Colorado Municipal League
    Chair; Attorney Section (2021-2022)
EDUCATION
B.A., University of Florida, Gainesville, FL, 1989
National Merit Scholar
J.D., Boston College Law School, Newton, MA 1992